Discover more from Ideas Untrapped
We are a social science podcast and publication about turning good ideas and research on economic growth and development into practical policy - with a particular focus on Africa. We interview experts and researchers from all sectors.
COVID-19 AND NIGERIA'S POSITION
How Prepared Are We?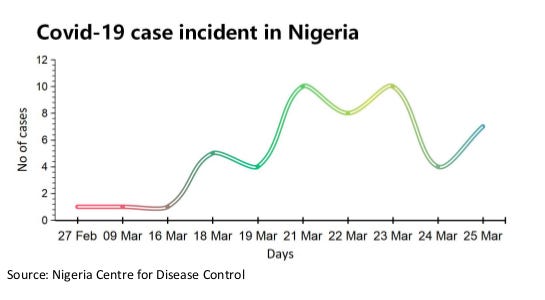 Since the first positive case of the coronavirus in Nigeria, the NCDC has sprung into action coordinating efforts across the country. This was no accident, Chikwe Ihekweazu came prepared. A profile of him by nature last year was not one of those "Africans can do it too" patronising trope. Iheazogwu is a professional with a sense of duty. Latest epidemiological report from the NCDC shows that we have a cumulative of 4,370 passengers of interest, and we have tested 178 people in total. I  would speculate that it is only a matter of time until we see an uptick in incident rates. This is not the time to pledge resources, it is the time to act. We have to do more tests.
Federal Government directives on the use of public spaces and social gatherings are preventive. It may currently look like an elite problem but viral infections are morally, politically and status blind. Neither does a virus make distinctions between the rich and the poor. The goal is to prevent a full-blown epidemic. Let's all take responsibility.
Economic Effect - Bottom of the Pyramid
What is true is already so.

Owning up to it doesn't make it worse.

…5 more lines

- Eugene Gendlin
The average Nigerian believes Nigeria is blessed with many resources - it is. Popular sentiments sometimes influence policy in counterproductive ways, and because most Nigerians believe the country is rich in natural resources -it should be self-sustaining. This is why closing the borders is a favoured policy. Going by our current policy regime, now is the time for Nigeria to get our manufacturing gears going, making test kits, masks etc including the inputs and let's not forget food (pun intended).
But alas! We can't do these things. We are only rich in primary products (raw materials), and we still need to source the inputs (from elsewhere) to turn these primary products to finished goods. This is why we need big businesses. Over the last couple of years, the number of MSMEs in Nigerian has grown. The nuance is that 99.8% of these are micro-businesses. In fact, the number of medium-sized businesses has shrunk by almost two-thirds from 4,670 in 2013 to 1,793 in 2017. These statistics show that people can't get stable wage jobs and are having to set up low-wage service businesses. This is a recipe for low economic performance and poverty. Yes, we want MSMEs numbers to grow but the distribution in Fig 1 is suboptimal.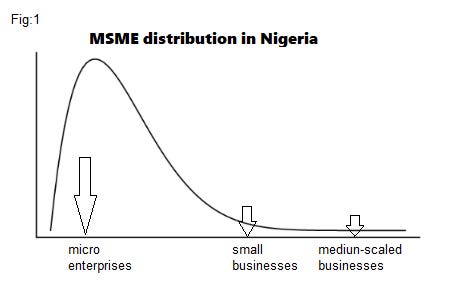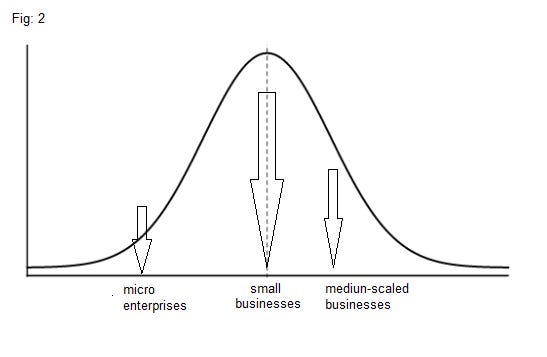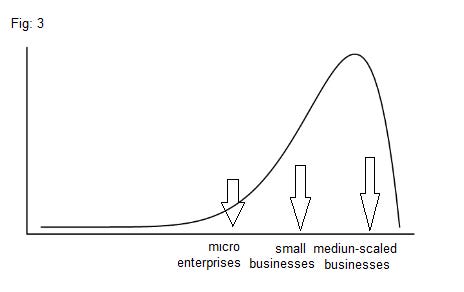 I would personally aim for Fig 3.
During a crisis such as we are in, our current MSME distribution (Fig 1 above) is fragile. Our economic preparedness is untenable. Most micro and small enterprises rely on daily cash flow for subsistence. They will be badly hit by the lockdown*. Most may also lack the resources for adequate protection where demand is steady. Big and medium-scaled businesses are better able to solve the coordination problems of sourcing varied inputs, manufacturing new products, and learning. Even better, they can leverage economy of scale to produce at low costs and sell at lower prices. In the event of a national crisis or full-blown epidemic, big businesses offer the best economic survival by onboarding small businesses in their distribution network to meet demand, and in their supply chain for production. They can also afford to provide adequate protection across the value chain.
The value of big businesses does not end in a crisis; they provide stable jobs, higher wages, skill transfer (technical, operational, management), better health insurance, retirement savings e.t.c. They also pay more tax and are easily held accountable or bullied.
As I said in an earlier post, the risk of novel outbreaks is part of modern life. With population growth and urban sprawl, we further encroach on animal territory and increase our exposure to new diseases. We can either strengthen our public health infrastructure with sensible growth policies, remain as we are, or "head back to the cave broke"**. The choice is ours.
---
*For small and micro businesses, I'll advise patience.
**Credits to Neil deGrasse Tyson.